Quality
Our expert technicians depend on quality parts for the success of their business. Inferior parts will only damage a shop's reputation and profit margins. With Four Seasons quality standards, you can expect superior products that are tested, validated and inspected before they ever go out our door.
Purchase with Confidence
As a basic manufacturer, we make the vast majority of products we sell. This gives us full control of our quality systems to provide our customers with reliable parts they can depend on. By having North American production facilities, we are able to provide shorter lead times during peak seasons and maintain industry-leading coverage with fewer SKUs.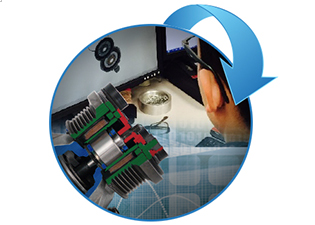 ---
Research & Development
We invest in first class expertise. Before a single unit is ever produced, our team of degreed engineers with over 150 years combined experience perform a myriad of research, testing and validation. On-site 3D modeling and design prototyping provide necessary tooling to ensure fit, form and function. Before production, extensive lab and field research begins with a comparison to the O.E. as a baseline, providing opportunities to develop unique improvements that eliminate known inherent weaknesses.
---
Quality Management
As an O.E. supplier, all of our manufacturing facilities carry and maintain proper certifications. Top quality management processes such as APQP (Advance Product Quality Planning) and PPAP (Production Part Approval Process) are put in place to ensure consistency in production and quality.
We have 158 in-house machines and pieces of equipment including high precision computer Coordinate Measuring (CMM) machines to ensure components meet specified dimensions and meet specified tolerances and dimensions.