Training Center

Training Center
Four Seasons' Technical Training program is recognized as one of the best in the industry and we have received numerous awards for outstanding training and customer support.
The advanced, hands-on training courses are conducted both in the field and at our Corporate Training Center in Irving, Texas. During 2013, we trained over 60,000 technicians in the shop, classroom, and on the web with over 1,700 seminars.
Our new online Counter Person and Technician training programs are available by simply following the respective links under the Training tab on this website. Counter Person Training provides in-depth knowledge about the Four Seasons branded products and Technician's Toolbox contains useful information to help technicians solve real-world problems.
Also, don't miss our video gallery under the Marketing tab for even more Product, Technical and Business Intelligence information.
The SMP Corporate Training Center Information
A COUNTERPERSONS GUIDE TO CLIMATE CONTROLS

Description: In this module we will take a comprehensive look at AC system design, operation, as well as the features and benefits that are built into our Climate Control products.

 A COUNTERPERSONS GUIDE TO AC SERVICE & SALES

Description: This module is designed to aid the Counterperson when selling AC replacement parts and or service equipment.

THE CLIMATE CONTROL LINE

Description: This module will examine the line content and the features and benefits that are built into our HVAC products.
Click here  To start the Module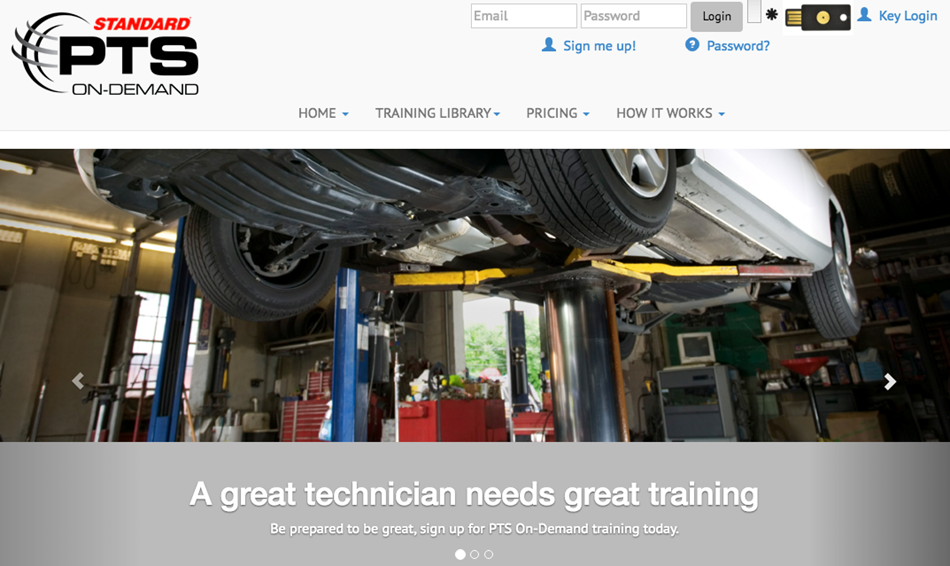 How it works
PTS On-Demand is for busy Professional Technicians. You're busy, work all day, and then do your best to keep up with new automotive technologies, tools, and techniques at night. We deliver practical, specific, expert advice to help make the maximum use of your time. We know what it takes to fix modern vehicles. That's why all course modules are built around real world case studies. We'll show you how to use the latest tools and techniques, and access the repair data to answer your toughest questions.
PTS On-Demand is Delivered to your PC.
A great feature of the PTS On-Demand webinar series is that you can attend the classes from the comfort of your office or den. No travel necessary! All you need is a personal computer, high speed internet access, a comfortable chair, and an hour to participate. Kick your boots off, we make it easy.
Sit back and learn—from the comfort of your home.
Choose from our library of titles available now or select upcoming topics and be notified when they are ready.
Here is a sample of our courses:
iATN Overview
Diesel Exhaust Fluid and Particulate Filters
Labscope Set Up
Labscope Current Probe Applications
HVAC Update
Domestic OE programming
Labscope Pressure Transducer Application
Top 3 Misdiagnosis
Ignition Analysis
Fuel Trim Diagnosis
Identifix Presentation
Forced Air Induction Technologies
Electronic Service Information 2013
GM V6 VVT
Understanding and Analyzing Wiring Schematics
Electronic Transmission Controls