Unimotor Facility
HVAC Components Manufacturing Facility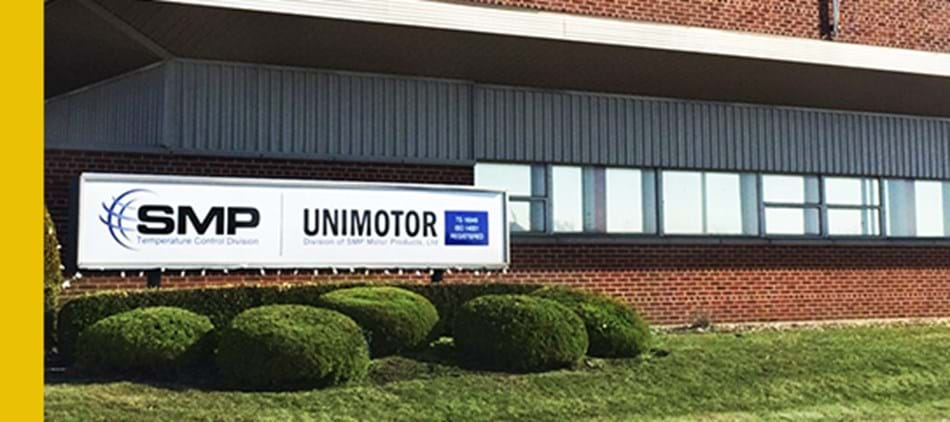 As part of the SMP Temperature Control Division, Unimotor, located in Ontario, Canada, specializes in manufacturing high-quality blower motors, cooling fan motors, brushless motors and condenser fan motors for the automotive aftermarket, as well as the O.E, OES, marine, RV, military and heavy equipment.
This modern 40,000 sq. ft. facility allows for numerous design capabilities including advanced 3D modeling, airflow performance and electrical magnetic interference. Our extensive testing and engineering allows development of new model designs and allows us to solve unique application problems. 
All of the products produced at our facility are 100% tested in a sound booth for functional performance and operational noise before they are permitted to leave our facility. Every stage of product development and manufacturing is subject to extensive quality control inspections to ensure all engineering and quality requirements are met. The facility is registered to ISO 9001 standard and has implemented a QOS (Quality Operating System) committed to the continuous improvement of all business processes. 
Throughout the Unimotor facility, a conscientious effort is made to recycle fluids, metals, and all other reusable materials. We recycle more than eighty percent of all waste generated throughout the facility. Waste and energy reduction plans are an important part of Unimotor's continuous improvement. The facility is registered to the ISO 14001 standard and is committed to meet customer and regulatory requirements.