Brushless Motors
Brushless Direct Current (BLDC) motors are quickly on the rise in the automotive aftermarket. This sophisticated technology first appeared in the mid 1990's and has gained popularity with the O.E. due to higher speed ranges, longer operating life and higher efficiency, just to name a few.
Additional Benefits
More speed control with less power demand
Quick response to control changes
Increased service life
Quiet operation
Larger operating speed range

Brushless Direct Current (BLDC) motors are true to their name because they utilize electronic sensorless commutation instead of brushes. The most common failure of the brushed design blower motor used for decades are the brushes themselves.
BLDC motors are more efficient by design. This design has characteristics such as quieter operation, greater speed control, increased efficiency, less weight and are usually smaller than their brushed counterparts.
IMPORTANCE OF PROPER REPLACEMENT
In between the evolution of the brushed design and brushless technology, the PWM (Pulse Width Modulation) controlled brushed motor was developed. PWM brushed motors use a digital signal generated from the vehicle's ECM (Engine Control Module) to send a duty cycle to the PWM controller to vary the speed of the brushed motor.
Brushed motors in conjunction with an attached PWM control module can be used in some brushless applications, however, a brushed motor without PWM cannot be used as a direct replacement in brushless applications. Brushed motors cannot accept the signal from the ECM to control the speed and will not function. Using PWM controlled brushed motors in brushless applications can result in lower performance, shorter life and higher operating noise. The increased size of PWM controlled brushed motors can create fitment issues in some applications where the O.E was the smaller brushless design.
NEWER TECHNOLOGY
Brushless blower motors are designed to provide precise control and a longer lifespan. The newer technology adds to the complexity of the motor's electronics which come with an increased cost. However, with efficiencies such as increased speed control, reliability and service life, investing in a BLDC motor can often be recovered throughout the life of the unit.
Click here to view more
WHEN IT COMES TO YOUR BRUSHLESS MOTOR NEEDS, LOOK TO FOUR SEASONS - QUALITY, COVERAGE, SERVICE
Our Brushless Replacement Design
P/N 75850
Four Seasons redesigned motor resolves several issues associated with this O.E. unit for these applications. Issues include insufficient cooling, exposed circuit boards and loosely attached electronics that can fail from common vehicle vibration. Our design features airtight sealed electronics with stall and surge protection, EMI suppression and an integrated cooling tube for extended motor life. 
Infiniti (12-05) Applications 
Nissan (12-03) Applications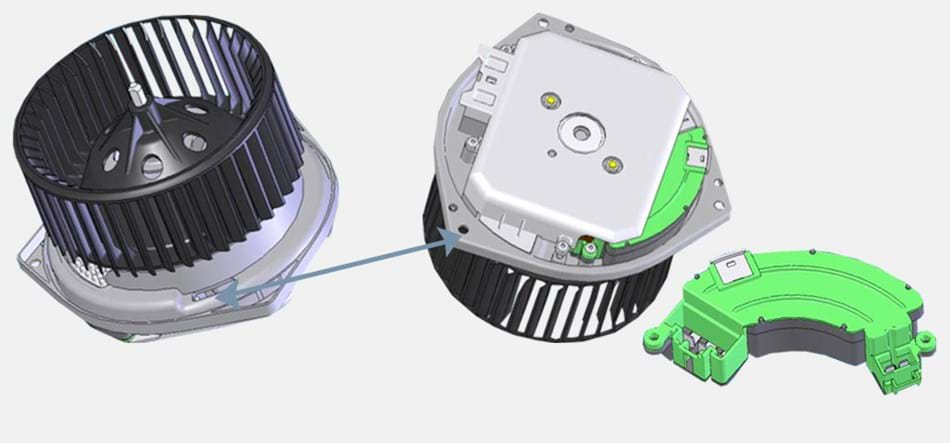 Cadillac / GMC Brushless Motor
P/N 35121
This Four Seasons motor is our improvement over GM's high failure HVAC brushless motor. Our design is engineered with the reliability of a conventional brush type motor and features new electronics, a more heat resistant housing and a shorter wheel for easy installation.
Applications Include: 
Cadillac Deville (99-94)
Cadillac Eldorado (02-94)
Cadillac Seville (97-94)
Chevrolet S10 (99-97)
GMC Sonoma (99-97)